Nadir Yakhni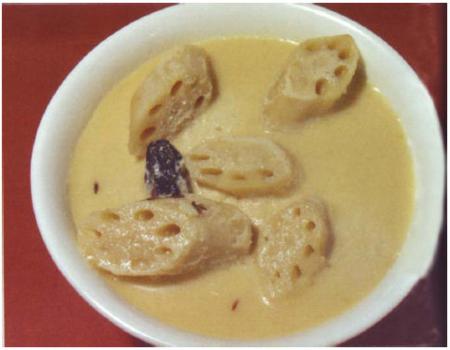 •
Lotus stems (kamal kakri)……………………….500 gms
•
Salt…………………… ……………….…………………. To taste
•
Yogurt…………………………………………………… 2 cups
•
Ghee… ……………………………………………….…. 2 tbsp
•
Black cardamoms……………………………..……. 2
•
Cloves…………………………………………………… 4-6
•
Cinnamon…………………………..…………………. 2 one inch sticks
•
Fennel (saunf) powder……………………………. 1 tsp
•
Dry ginger powder (soonth)……………………. 1 tsp
•
Green cardamoms………………………………… 4-6
•
Caraway seeds (shahi jeera)………………….. ½ tsp
•
Dry mint leaves……………………………………. a big pinch
1.Peel and wash lotus stems thoroughly under running water and cut into three-fourth inch sized diagonal pieces.
2.Boil four cups of water in a pan and add lotus stems and salt and cook till half done.
3.Mix yogurt with half a cup of water and blend well. Keep a sieve on a pan and place a muslin cloth over it, pour the yogurt
mixture and strain.
4.Cook the strained mixture on high heat stirring continuously till the mixture changes its color. Remove from heat.
5.Heat ghee in a pan and add black cardamoms, cloves, cinnamon and sauté till spices crackle.
6.Blend together fennel powder and dry ginger powder in one cup of water.
7.Add this mixture to the pan and stir. Add cooked yogurt and lotus stems and mix well.
8.Add salt and green cardamoms. Cook till lotus stems are fully cooked.
9.Add caraway seeds and dried crushed mint leaves. Stir and remove from heat. Serve hot.
By Vaidehi