Nankhatai (Indian Cookies)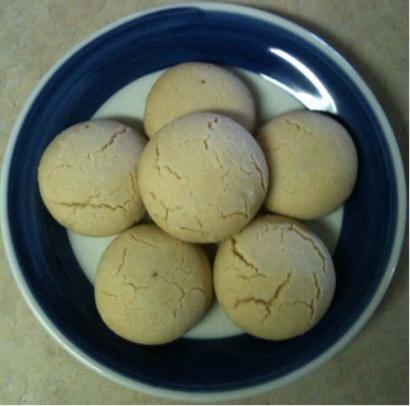 This is a very popular sweet in Mumbai –easy to make and can be stored for a long time
Ingredients
• All purpose flour (Maida) – 1 cup
• Powdered sugar – 1/3 cup
• Baking powder – ½ tsp
• Ghee – 6-7 tbsp
• Salt – a pinch
Preparation
1. Sieve the flour, sugar and baking powder/soda together into a mixing bowl.
2. Add the rest of the ingredients apart from the ghee.
3. Now add ghee and knead the dough until you have it the consistency of stiff but pliable dough. (Like chapatti dough)Cover the dough well and keep it aside for a few hours or overnight.
4. Preheat the oven to 350°F.
5. Line a cookie sheet with parchment paper. Divide the dough into small portions & shape them in to balls and flatten them a little.
6. Bake in the pre-heated oven for about 15 minutes or until the cookies develop a few cracks on top and are slightly browned at the bottom.
7. Let them cool before offering to Krishna. Serve with milk or just like that.
Serves
Makes 15-18 pieces
By Dipti Naik