Nut bar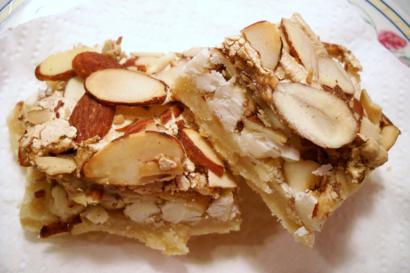 Ingredients
•All purpose flour…………………………….1 C
•Sugar…………………………………………….½ C
•Cold butter, divided…………………………½ C
•Packed brown sugar………………………..½ C
•Honey……………………………………………2 Tbsp
•Heavy cream………………………………….¼ C
•Chopped pecans or walnuts…………….2/3 C
•Chopped almonds…………………………..2/3 C
•Dried cranberries or raisins……………….2/3 C
Preparation
1)Butter a 9-inch square baking pan and line with 1 sheet of foil, leaving a 2-inch overhang on 2 opposite sides, then butter foil, keep aside.
2)Combine the flour and sugar. Cut in ¼ C butter; rub with the two hands till it resembles coarse crumbs. Press into the prepared pan and bake at 350 F/180 C for 10 minutes. In a saucepan heat brown sugar, the remaining butter and honey until bubbly. Boil for 1 minute. Take off from heat; stir in the nuts, cranberries and cream. Pour over the crust. Bake for 15-20 minutes or until bubbly. Cool in pan on a rack.
3)Refrigerate for 25-30 minutes. Lift bars from pan by grasping both ends of foil. Cut into square or diamond shapes and lift bars off foil.
By Anand Lila Devi Dasi