Oatmeal raisin cookies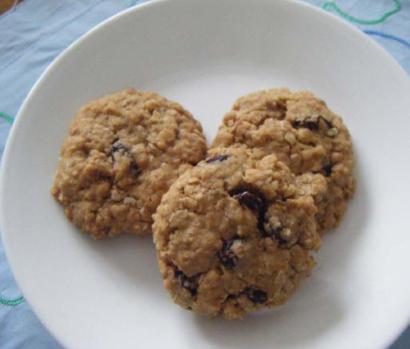 Ingredients
•I cup butter, softened
•1 cup brown sugar
•½ cup granulated sugar
•3 tsp egg replacer (mixed with 4 tbsp warm water)
•1 ½ cup flour
•1 tsp baking soda
•1 tbsp flaxseeds, optional
•2 tbsp wheat bran, optional
•1 tsp vanilla
•½ tsp salt
•1 tsp cinnamon
•3 cups quick oats
•1 cup raisins
Preparation
1.Beat together butter and sugar until creamy. Add egg replacer mixture and vanilla, set aside.
2.Combine flour, baking soda, flaxseeds, cinnamon and salt. Combine wet and dry ingredients.
3.Stir in oats and raisins. Drop mounds of dough 2 inches apart onto prepared cookie sheet. Bake in a 350F oven for 10 minutes. Cool on cookie sheet for 5 minutes. Transfer cookies to a rack and let cool.
Serves
3 dozens
By Madhavi Davi Dasi