Okra Supreme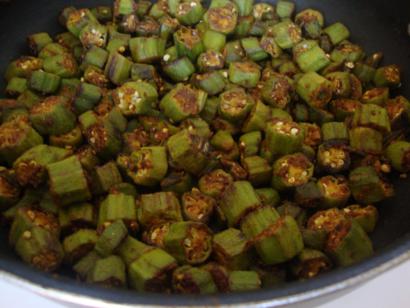 For many cooks okra is an unknown vegetable. If they have ever eaten it, it may have been in the American south as part of a gumbo or stew, or deep-fried in a corn batter. Few, however, would ever buy it to family or guests. Yet this stir-fried okra is easy to make, and so delicious that it will surprise even the reluctant. Okra is a summer vegetable, at its best in June or July, but you may find it as early as April and as late as September. The pods should be small -3-4 inches (7.5-10 cm) long and the pointed end will snap off it fresh; when the pods are old, the ends will only bend. The cut pods release a glutinous sap, so the rinsed okra must be dried thoroughly on paper towels before it is cut, to prevent excessive stickiness. Since this is a pan-fried vegetable, cooked with out water, a nonstick frying pan is ideal, using a minimal amount menu, of oil to yield the lightly browned vegetable. Serve it on almost any Vedic lunch or dinner menu.
Preparation time (after assembling ingredients): 15 minutes
Cooking time: 25 minutes
Ingredients
• Fresh okra – 1 pound (455 g)
• Ghee or peanut oil – 3-4 table spoons (45-60 ml)
• Ground coriander – 1 ½ table spoons (22 ml)
• Ground cumin – ½ teaspoon (2 ml)
• Paprika or cayenne pepper – ¼ teaspoon (1 ml)
• Garam masala – ½ teaspoon (2 ml)
• Turmeric – ½ teaspoon (2 ml)
• Salt – 1 teaspoon (5 ml)

Preparation
1. Wash the okra and dry thoroughly on paper towels. (If it is warm day, air-dry in the sun.) Trim off the tip and stem, and slice into rounds 1/3 inch (1 cm) thick.
2. In a large, heavy frying pan, preferably nonstick, heat the ghee or oil over moderately high heat. When it is hot but not smoking, add the okra in a single layer and reduce the heat to moderate. Cook for about 20 minutes, stirring occasionally to brown the okra evenly.
3.Toward the end, add the ground spices, raise the heat to moderately high and, stirring steadily, fry until golden brown and fully cooked. Remove the pan from the heat, sprinkle with salt, toss to coat the okra evenly, and let it sit, covered, for 1 minute before serving.
Serves
4

By Yamuna Devi Dasi