One Meal Paratha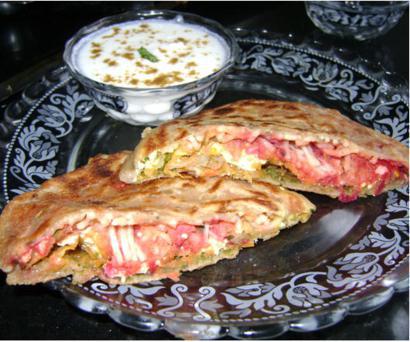 Ingredients
•Wheat Flour………………..50 gms
•Potatoes…………………….1 medium
•Carrot………………………..1 small
•Beetroots…………………….1 small piece
•Paneer……………………….40 gms
•Noodles……………………..20 gms
•Green chutney…………….1 tbsp
•Chat Masala………………1 tbsp
•Whole jeera………………..2 Tsp
•Butter…………………………1 Tsp
•Salt To taste
Accompaniment
•Curds…………………………1 Cup
•Roasted Jeera Pwd………1 Tsp
•Salt To taste
Preparation
For Parathas
1.Knead wheat flour with salt to the soft consistency, cover and keep aside for 30 minutes.
2.Divide the dough into two equal parts.
3.Roll into medium size chapattis.
4.Keep covered.
For Filling
1.Boil and smash potatoes with a dash of butter.
2.Add salt, little chat masala and grated beet root.
3.Grate paneer and carrot separately. Mix chopped coriander leaves, salt, chat masala.
For Chutney
1.Grind coriander leaves, green chillies, ginger, mint leaves, salt and lime.
2.Make paste. Do not add water.
Method
1.Take one rolled chapatti and apply green chutney.
2.Put the layer of grated carrot, mashed potato and grated paneer in the same sequence.
3.Put boiled noodles.
4.Cover with 2nd rolled chapatti. Seal the edges properly.
5.Shallow fry with a dash of butter.
6.Serve hot with curds.
By Vaidehi