Orange snowballs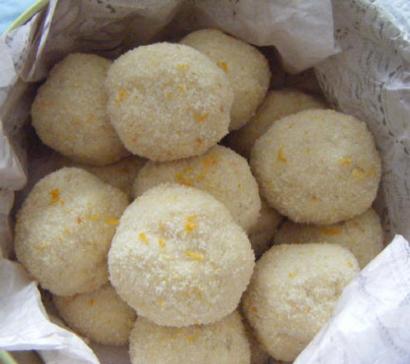 Ingredients
•1 cup butter, softened
•1 cup sugar
•1 tbsp orange zest
•2 tsp orange zest
•½ cup granulated sugar
•1 tbsp orange juice
•2 ¾ cup flour
Preparation
1.In a large bowl, cream butter and sugar. Add orange juice, zest, and flour. Combine all ingredients well.
2.Shape dough into 1 1/4 –inch balls. Bake in a 325F oven for 15 minutes. Let cookies cool on baking sheet for 5 minutes.
3.Meanwhile, in a food processor or a blender combine ½ cup sugar and the 2 tsp orange zest. Blend until mixture is combined. Roll warm cookies in the sugar mixture. Transfer cookies to a rack and let cool.
Serves
40 pieces
By Madhavi Davi Dasi