Out of this world Cranberry Bars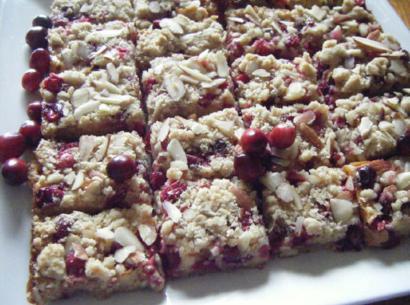 Ingredients
•12 oz fresh cranberries
•1 ½ cup flour
•¾ cup old-fashioned oats
•¾ cup brown sugar
•1/8 tsp nutmeg
•½ tsp baking powder
•¼ tsp salt
•½ cup butter, softened
•1/3 cup orange juice
•1 tsp orange zest
•14 oz condensed milk
•3 tsp egg replacer, mixed with 4 tbsp warm water
•½ tsp vanilla extract
•¼ cup sliced almonds
Preparation
1.Line a 13" x 9" baking pan with foil, with overhang on the sides. Butter the foil. Preheat oven to 350F.
2.Combine flour, oats, sugar, nutmeg, baking powered and salt in a bowl. With fingers, work in butter until evenly distributed. Reserve about 1 cup of mixture for topping. Press mixture evenly into the bottom of the pan. Bake for 12 minutes.
3.Meanwhile, combine 1/3 cup orange juice, condensed milk, egg replacer mixture, vanilla, and orange zest well in a bowl.
4.Sprinkle cranberries evenly over hot crust. Pour orange mixture over berries. Spread gently to evenly distribute cranberries over crust. Bake for 7 minutes.
5.Remove the pan from oven. Sprinkle evenly with reserved topping. Sprinkle almonds evenly over top. Bake for 30 minutes.
6.Cool on wire rack for an hour. Gently lift out of pan and cool completely on wire rack. Cut into 24 bars.
Serves
24 pieces
By Madhavi Davi Dasi