Pan-Fried baby Eggplants stuffed with ground Almonds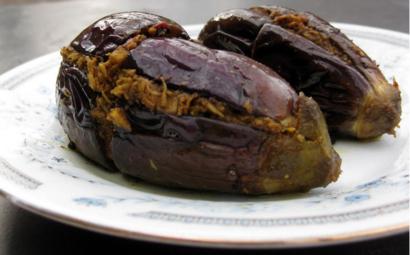 Eggplant is a native of India and is prepared in almost every conceivable way. As a side-dish vegetable, baby white or purple eggplants are slit, spread with spices and pan-fried until butter soft. Although baby whites (which look like large eggs) are only available at specially greengrocers in large cities, the seeds are sold through numerous mail order and retail outlets. They are as easy to grow as tomatoes. You could also use small, narrow Japanese eggplants for this dish.
Preparation time: 15-20 minutes
Cooking time: about 30 minutes
Ingredients
• Baby white or purple eggplants (2 ounces/60 g each) – 12
• Ground almonds – 3 table spoons (45 ml)
• Ground coriander – 1 table spoon (15 ml)
• Ground cumin – 1 teaspoon (5 ml)
• Garam masala – 1 teaspoon (5 ml)
• Turmeric – ½ teaspoon (2 ml)
• Cayenne pepper – ¼ teaspoon (1 ml)
• Amchoor powder (hing) – ½ teaspoon (2 ml)
• Salt – ½ table spoon (7 ml)
• Ghee or vegetable oil – 4 table spoons (60 ml)
• Coin-sized slices of peeled fresh ginger root – 2
• Fresh coriander or parsley for garnishing – 6 sprigs
Note: This amount applies only to yellow Cobra. Reduce any other asafetida by three-fourths.

Preparation
1. Almost halve the eggplants, cutting from the rounded base end to within ½ inch (1.5 cm) of the stem and cap. Soak in cold water for 10 minutes or until they open up slightly. Drain in a colander, then pat the outsides dry with paper towels.
2. Combine the almonds, spices and salt in a small dish and mix well. Smear the stuffing on the cut surfaces of the eggplants until all the mixture is used. Gently press the eggplants together to reshape them, then bind them closed by winding 2 or 3 rounds of ordinary white sewing thead around the thick end, and twist to knot.
3. Combine the ghee or oil and sliced ginger root in a heavy-bottomed 12-inch (30 cm) nonstick frying pan. Place the pan over moderate heat and when the ghee or oil is hot but not smoking, drop in the eggplants and cook, gently tossing, for about 8 minutes or until they are glossy and lightly browned. Reduce the heat to low., cover and cook for about 20 minutes, turning the eggplants 3 or 4 times to brown evenly on all sides. Remove the threads and garnish with herb sprigs before serving.

Serves
6

By Yamuna Devi Dasi