Not Taiwanese but Italian Cookies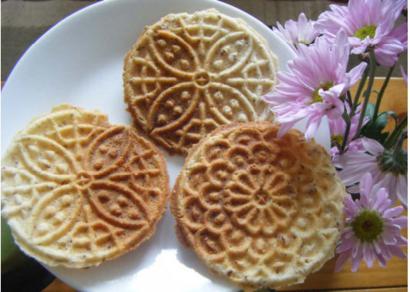 Ingredients
1 ¾ cup flour
3 tbsp flaxseed meal, mixed with 9 tbsp warm water
1 tsp vanilla
2 tsp baking powder
½ cup butter, melted
¾ cup brown sugar
Preparation
1.In a medium ball, mix flaxseed meal mixture that is to substitute for eggs (you may also use 3 tsp egg replacer, mixed with 6 tbsp warm water), sugar, butter, sugar, and vanilla.
2.Add flour and baking powder. Mix well.
3.Heat the baker/iron according to manual. Drop the batter by spoon. Makes 30 pizzelles.
4.Liz's favorite cookies… You need a pizzelle baker or iron to make these cookies! They are crisp and low fat!!! Maharaja was disappointed to learn that there were Italian cookies not Taiwanese cookies the first time I made these for him
5.You may use whole wheat, rye, or spelt flour to make pizzelles. You may add extract of any flavor you like or simply just add sesame seeds.
Serves
30 pieces
By Madhavi Davi Dasi