Peanut butter and carob chip cookies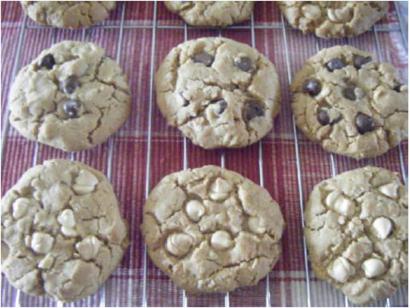 Ingredients
• 1 ¾ cup flour
• ¾ tsp salt
• ¾ tsp baking soda
• ¾ cup creamy peanut butter
• ½ cup butter
• 1 ¼ cup (or less) brown sugar
• 3 tbsp milk
• 1 tsp vanilla extract
• 1 ½ tsp egg replacer, mixed with 2 tbsp warm water
• 10 oz carob chips or white chocolate chips
• 1/3 cup chopped peanuts
• 1/3 cup quick cooking oats
Preparation
1.Preheat the oven to 375F. In a medium bowl, mix baking soda, salt, and flour. Set aside.
2.Beat peanut butter, butter, and sugar in a large bowl until well blended. Beat in milk, vanilla, and egg replacer mixture until blended. Add flour mixture slowly until blended. Stir in carob chips, peanuts and oats. 3.Drop by heaping tablespoons onto parchment-lined cookie sheets. Press each cookie slightly.
4.Bake cookies for 12 minutes. Let cool on a wire rack.
Serves
30 pieces
By Madhavi Davi Dasi