Peas Bhath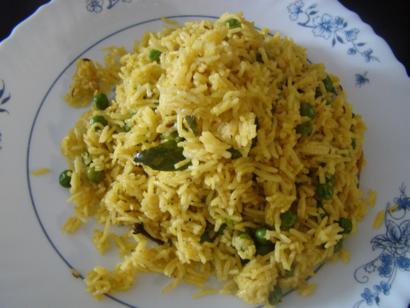 Ingredients
• Rice – 1 cup
• Fresh green peas – ¾ cup (shelled)
• Salt – as required
• Turmeric powder – ½ tsp.
• Lemon – 1
• Cut coriander leaves – 1 tbsp
• Oil – 2 ½ tbsp
For Seasoning:
• Mustard seeds – ½ tsp.
• Black gram dhal – 1 tsp.
• Bengal gram dhal – 1 tsp.
• Broken cashew nuts – 1 tbsp
• Curry leaves – few springs
Grind together:
• Grated fresh coconut – ¼ cup
• Green chilies – ¼
• Ginger – ¼ inch piece
• Cloves – 2
• Cardamom- 1 or 2
• Cinnamon – 1 small piece
• Coriander leaves.
Note: Fry cardamom, cinnamon and cloves in ghee and then grind along with other ingredients.
Preparation
1. Cook rice till each grain is separate.
2. Spread over a broad basin and allow it to cool.
3. Cook peas separately till soft.
4. Heat oil and fry the mustard seeds, black gram dhal, bengal gram dhal, broken cashewnuts and curry leaves till the dhal turns brown in colour.
5. Add peas with ground masala paste and fry till raw flavor is lost.
6. Add salt, turmeric powder and cooked rice.
7. Fry in a high flame till everything is mixed well.
8. Remove from fire, squeeze lemon juice and mix well.
9. Garnish with cut coriander leaves.
Serves
2 Persons.
By Bhaktin Ranjana