Perfect Chapati Pizza Crust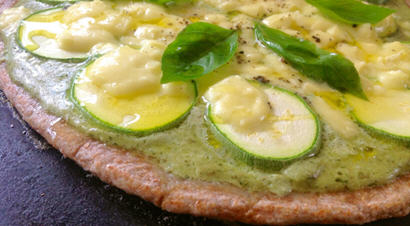 Description
Yes, really! By precooking a thick chapati and then baking it at a high temperature, with toppings, the chapati turns into a nice crispy pizza crust. Perfect for any quick pizza!
Perfect Chapati Pizza Crust Ingredients
Ingredients
1. 2 cups whole wheat flour 2. 1/4 tsp salt 3.
2. tbsp oil 4. warm water
Method
1) First you will need to make chapati dough as you normally do. This recipe is for 2 small pizzas. Add the whole wheat flour, salt and oil into a mixing bowl and stir together. Then add warm water a little at a time until you have a nice dough that is not too sticky. Then separate the dough into two balls.
2) Next begin rolling the dough balls one at a time using a little oil on the rolling pin and counter surface.
3) Roll out the dough into a little less than a quarter inch or 5mm thick.
4) Now you are ready to pan cook the chapati crust on the stove as you normally would.
5) Place the chapati on a non-stick pan on medium high heat and cook on both sides.
6) Cook until the chapati begins to inflate and you are done.
7) Preheat the oven to 250C/480F. Now you are ready to add all your favorite toppings. Here I added a soft paneer and basil cream sauce with sliced zucchini, homemade mozzarella cheese and added a little salt and pepper on top.
8) Bake for about 10 minutes or until all your toppings are nicely cooked and melted. Now you are ready to offer to Kṛṣṇa with love and devotion!
By Bhaktin Christina