Polo Dosa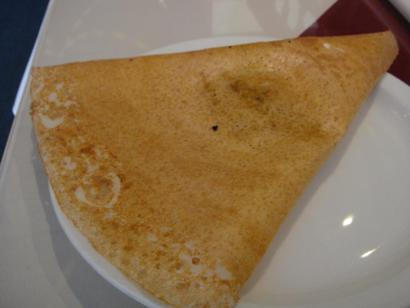 Ingredients
For Filling:
•Dry coconut grated – ½ cup
•Poppy seeds – 3 tbsp
•Cashew nut pieces – ¼ cup
•Raisin – 20-25
•Powdered sugar – 3 tbsp
•Almond granules – 3-4 cup
•Pistachio granules – 2-3 cup
•Cardamom powder – 2 tbsp
For batter:
•Rice – 1 ½ cup.
•Urad dal – 1 cup.
Preparation
For batter:
1.Soak rice and urad dal for 6-8 hours in water.
2.Sieve the rice and urad dal.
3.Grind them separately by adding water to it.
4.Keep it covered overnight.
For Filling:
1.Mix grated coconut, poppy seeds, Pieces of cashew, raisins.
2.Add almond, Pistachio granules and Cardamom powder to it.
3.Make plain dosa and spread all the dry fruit masala over it and fold it and serve.
Serves
4 Persons
By Bhaktin Pooja