Upma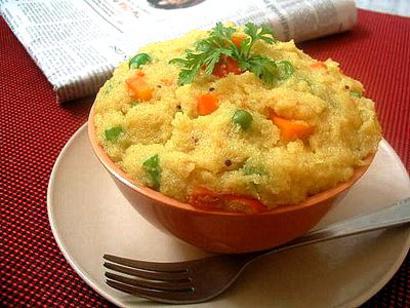 Ingredients:
• Coarse-grain semolina – 1½ cups
• Ghee or oil – ¼ cup
• Black mustard seeds – 1½ tsp
• Split urad dal – 2 tsp
• Cumin seeds – 1½ tsp
• Hot green chilies, seeded and minced – 2
• Cabbage, finely shredded – 2 cups
• Red pepper, seeded and diced – 1
• Peeled potatoes, cubed – 1 cup
• Orange-fleshed sweet potato – 1 cup
• Turmeric – ½ tsp
• Hot water – 3 cups
• Green peas, cooked if fresh, thawed if frozen – 1 cup
• Salt – 1½ tsp
• Roasted cashew pieces – 1 cup
• Chopped fresh coriander leaves – 2 tbsp
• Fresh lemon juice – 2 tbsp
• Toast, yogurt, lemon wedges, or chutney to accompany (optional).
Preparation:
1. Dry-roast the semolina in a large, heavy dry frying pan over moderate heat for 6 – 8 minutes or until the grains darken a few shades. Transfer to a bowl and set aside.
2. Heat the ghee or oil in a heavy 4 or 5-litre/quart saucepan over moderately high heat. Saute the black mustard seeds in the hot oil until they crackle. Add the urad dal and cumin seeds and saute them until they darken; add the chilies and, stirring, add the cabbage, peppers, zucchini, potatoes, and turmeric. Stir-fry for 2 or 3 minutes.
3. Reduce the heat to moderate and continue to cook for another 4 or 5 minutes or until the vegetables are limp and partly cooked. Carefully add the hot water and bring to the boil. Add the cooked fresh peas or thawed frozen peas. Add the semolina, stirring continuously. Add the salt; reduce the heat to very low, and half-cover with a lid, stirring often until the upma becomes a light, fluffy pudding (about 5 minutes). If the upma appears too dry, add a little warm water.
4. Remove the upma from the heat, stir in the cashew nuts, lemon juice and fresh coriander leaves, and serve hot with suggested accompaniments.
By Kurma