Potato curry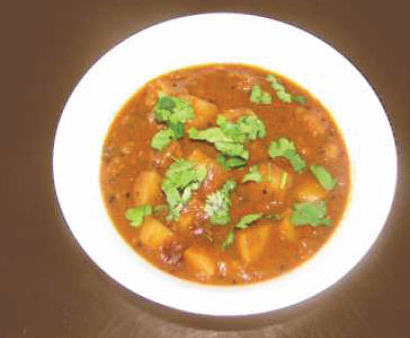 Ingredients
•Medium Potatoes…………..4
•Ghee/Oil……………………..2 Tbsp
•Mustard seeds………………1 Tsp
•Cumin seeds………………….1 Tsp
•Asafetida……………………..¼ Tsp
•Minced Ginger……………..3 Tbsp
•Green Chillies………………2
•Tumeric powder…………………¼ Tsp
•Tomatoes pureed……………….4
•Garam Masala………………….1 Tsp
•Chana Masala…………………..1 Tsp
•Coriander powder……………..1 Tsp
•Amchur powder…………………½ Tsp
•Salt………………………………….1Tsp
•Water………………………………2 C
•Coriander leaves……………….2 Tsp
(Chopped fresh)
Preparation
1.Peel and chop the potatoes in 1 inchcubes.
2.Heat ghee/oil in a saucepan; add themustard seeds and when they splutter, add cumin seeds, sautétill they darken a few shades. Sprinkle asafetida, stir fryginger and green chillies. Add the turmeric, quickly pour thetomato puree. Add all the remaining spices and salt. Fry tillthe ghee/oil oozes out from the tomato spicemixture.
3.Add the potatoes and water. Bring themixture to a boil, stir briefly, then reduce heat to a simmer &cook covered partially
till potatoes are soft.
4.Sprinkle with coriander leaves and servehot with chapatti or paratha.
Serves
4-5
By Anand Lila Devi Dasi