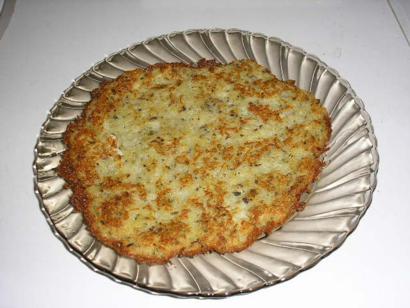 Ingredients
• Small potatoes, peeled and steamed (not soft) – 1 kg
• Butter – 2 tsp
• Olive oil – 2 tsp
• Salt – 1 tsp
• Coarsely ground black pepper – ½ tsp

Preparation
1. Grate the potatoes coarsely and keep them aside.
2. Heat the butter along with the oil in a large, heavy frying pan on moderate heat.
3. When the butter melts completely place the grated potatoes in the pan and spread them out into a large pancake, taking care not to press it down too much.
4. Season the potatoes with the salt and black pepper.
5. Cover the pan and reduce the heat, cook for 8 to 10 minutes or until cooked.
6. Shake the pan occasionally to make sure the mixture doesn't stick the pan.
7. Fry it for another 5 or 6 minutes or until the other side turns to golden brown.
8. Remove the pan from the heat and slide the potato pancake out of the pan onto a warmed serving dish. Slice them and serve immediately.

Serves
4-5 Persons

By Bhaktin Pooja