Potato Soup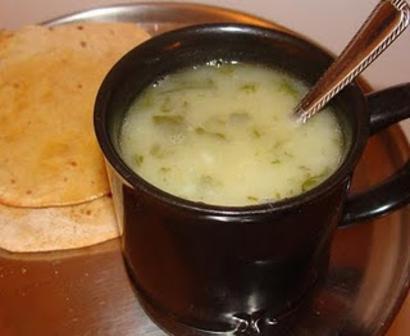 Ingredients
• Potatoes – 10 medium sized
• Couple big handfuls of freshly picked basil leaves (if available, otherwise use dried basil)
• Hing – 1/4-1/2 tsp
• Black pepper – 1/2 – 1 tsp
• Salt, as desired
• Ghee
Preparation:
1. Peel and cut potatoes into large chunks
2. Add water until potatoes are covered and a few inches more.
3. Bring to a boil and cook until the potatoes are tender.
4. Gently mash. The result should be soupy.
5. Chaunce the ghee with hing and black pepper and then the basil leaves. Immediately add to the soup.
6. Simmer about 15 minutes more to incorporate all the flavors.
7. Offer to Krishna with freshly cooked parathas or wedges of leavened bread.
Serves
6 Persons
By Bhaktin Priya