Simple Tomato chutney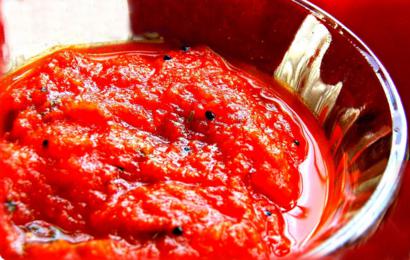 I was first introduced to one of Srila Prabhupada's famous tomato chutneys in 1966, and it still remains one of my favorites today. In my early days as his cook, I recall few feasts, banquets or journeys that did not include some variation or another. I have taken the liberty of approximating measurements, as Srila prabhupada cooked with out measuring tools. Try this chutney with any rice or dal, or vegetables that are compatible with tomatoes.
Preparation time (after assembling ingredients): about 25 minutes
Ingredients
• Ghee – 2 table spoons (30 ml)
• Whole dried red chilies – 1-2
• Cumin seeds – 1 teaspoon (5 ml)
• Cinnamon stick – 1-inch (2.5 cm) piece
• Coarsely chopped ripe tomatoes – 1 2/3 cups (about 1 ¼ pounds/570 g)
• Maple sugar, date, sugar or jaggery – 3 table spoons (45 ml)
• salt – ½ teaspoon (2 ml)

Preparation
1. Heat the ghee in a large frying pan over moderate heat. When it is hot but not smoking, add the chilies, cumin seeds and cinnamon stick, and fry until the cumin seeds turn brown.
2. Carefully add the tomatoes, sweetener and salt, and stir the sizzling ingredients for 10-15 minutes until the chutneys is fairly dry.
3. Serve warm, at room temperature or chilled.
4. It can be kept, tightly covered and refrigerated, for 2-3 days.

Note: if you make this dish in quantity, cook it over moderately low heat, not moderate. The cooking time increases considerably because of the increased juice in the larger quantity of tomatoes.

Makes
About 1 cups (240 ml)

By Yamuna Devi Dasi