Simple Boiled Rice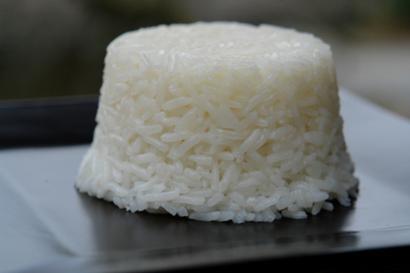 Indian rice pots are very heavy, giving excellent heat distribution. They are usually made of tinned brass or bell metal and have round bottoms, narrow necks and saucer like lids. When rice is cooked in these pots, it is boiled until about half done. Then muslin cloth is tied over the neck and the water is drained off. Next, the lid is put in place, live coal embers are put in the lid and the pot is set on dying coal embers. The rice slowly dries off and cooks until tender. In the villages, the cooking water is often reserved and used to starch cotton garments or fed to the calves and cows as extra nourishment.

Whether the quantity of rice is small or large, it is easy to control the degree of tenderness by first boiling the rice and then finishing it in the oven. When done, the long, slender grains should be separate, fluffy and soft. Test by pressing a grain between the thumb and finger: it should have no hard core. It can be either firm, al dente, or very soft.
Preparation time (after assembling ingredients): 5 minutes
Cooking time: 25-35 minutes
Ingredients
• Basmati or other long-grain white rice – 1 ½ cups (130 g)
• Water – 8-10 cups (2-2.5liters)
• Fresh lemon or lime juice – ½ teaspoon (2ml)
• Salt (optional) – 1 teaspoon (5 ml)
• Butter or ghee (optional) – 2 table spoons (30 ml)
Preparation
1. Preheat the oven to 300 F (150 C). If basmati rice is used, clean, wash, soak and drain as explained on page 4.
2. Bring the water, lemon juice and salt to a full boil in a 5-quart/liter pan. Stirring constantly, slowly pour in the rice and return the water to a full boil. Boil rapidly, without stirring, for 10-12 minutes or until the rice is no longer brittle though still firm.
3. Pour the cooked rice into a strainer and drain. Quickly transfer the rice to flat ovenproof dish and spread it out evenly. Put half of the butter or ghee over the hot rice and cover tightly. Place in a preheated 300 F (150 C) oven for 15-20 minutes or until the rice has dried out and is tender. Add the remaining butter, gently toss with a fork and serve piping hot.

Serves
4 or 5
By Yamuna Devi Dasi