Ragda Pattice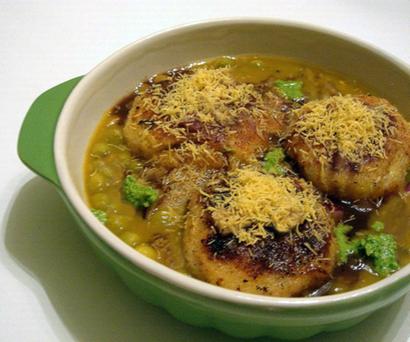 Ingredients
For Ragda:
• Dry white peas – 200grams
• Tomatoes – 200 grams
• Turmeric powder – 1/2-tsp.
• Garam masala – 1 tbsp.
• Red chili powder – 2-tsp.
• Green chili paste – 2-tsp.
• Oil – 2 tbsp.
• Salt – as per taste
For Pattice:
• Green peas – 300 grams
• Green chili paste – 2-tsp.
• Bread – 6 slice
• Mango powder – 1 tsp.
• Cilantro leaves -1-cup
• Sugar – ½ tsp.
• Salt for taste
• Oil for roasting
• Sev
For the topping:
• Chutney
• Mint cilantro chutney
• Tamarind-date chutney
• Cilantro leaves – ½ cup
Preparation
For Pattice:
1. Boil peas in a pressure cooker and mash them.
2. Add squeezed bread, paste, mango powder, cilantro leaves, sugar and salt.
3. Mix well and make patties.
4. Roast on a griddle till brown on both the sides by adding little oil.
For the topping:
1. Arrange patties in a plate and pour ragda.
2. Spread chutney, mint cilantro chutney and tamarind- date chutney.
3. Sprinkle some chopped cilantro leaves and sev.
Serves
3 Persons
By Bhaktin Shanti