Sabudana Thalipeeth (Sago Dosa)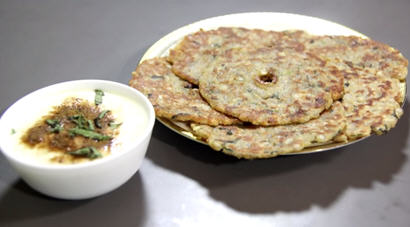 Ingredients
. Soaked Sago – 1/2 cup
. Amaranath Aata – 1/2 cup
. Boiled Potato – 2
. Peanuts – 1 tbsp coarsely grind
. Ghee – 2 tbsp
. Grated Ginger – 1 tsp
. Green Chillies – 2 chopped
. Green Coriander – 1 tbsp chopped
. Cumin seed – 1/2 tsp
. Black Pepper Powder – 1/4 tsp
. Sendha Namak – 3/4 tsp
Preparation
1. First take a large bowl. Then peel and mash potatoes.
2. Now add pearl sago, flour, salt, black pepper, cumin seeds, coriander, green chillies, grinded peanuts, and ginger.
3. Now make the dough while mixing all the ingredients well.
4. After making soft dough we will make sabudana thalipeeth from it.
5. So to roll the thalipeeth, Take a polythene sheet it will be able to easily roll it. While doing this we have left the tava/flat pan to heat.
6. So first we will take a little ghee and lubricate our fingers. And take a little lump from the dough. A lump as little as a lemon.
7. Now make it round and flatten it with your palms. Apply a little ghee on the polythene sheet as well.
8. Now keep the lump on sheet and add a little ghee on the top of it. Now cover the lump with the rest of polythene sheet.
9. Press the lump gently, with your palm slowly flatten/roll it in circle with your palm and fingers.
10. After having a circular thalipeeth of about 3-4 inch circumference do not keep it too thin or thick.
11. Lubricate the flat-pan with some ghee.
12. Remove the upper sheet of the thalipeeth and keep it on the pan and in the middle if it, make a little hole in the center to add a little more ghee on the top and when it has been fried on the lower end we will flip it over and repeat.
13. Repeat the process for the rest of the thalipeeths in same way till the dough is complete
14. Thali peeths are ready to serve you may serve them with curd/dahi
By Bhaktin Archana