Chinese Vegetable Fried Rice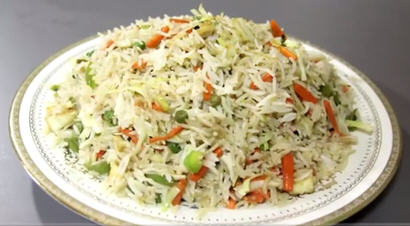 Ingredients
. Cooked Rice – 1 cup
. Cabbage – 1 cup chopped
. Carrot – 1/2 cup chopped
. French Beans – 1/4 cup chopped
. Cottage Cheese – 1/2 cup chopped
. Capsicum – 1/4 cup chopped
. Green Coriander – 2 tbsp
. Oil – 3 tbsp
. Green Chilly – 2 chopped
. Salt to taste
. Ginger – 1 inch grated
. Ajinomoto – 1/4 tsp
. Green Chilly Sauce – 2 tbsp
. Vinegar – 2 tsp
Preparation
1. Heat the pan and add oil to it.
2. Add paneer pieces to it and let it roast. Take out the paneer pieces in a bowl once they are brown in colour.
3. Now add carrots and beans to the pan in the same oil and make sure the oil is hot enough.
4. Add Capsicum and cabbage as well.Fry the vegetables for another 1-2 minutes.
5. Now add green chilli, ginger, chilli sauce and vinegar.
6. Now add the roasted paneer as well. Add Salt. Finally add the cooked rice.
7. Mix well and cook the rice for another 2 minutes
8. All the things are mixed well. Garnish the rice with coriander leaves and mix.
9. Fried Rice are now ready. Take them out in a plate.
10. Veg chinese fried rice are now ready.
By Bhaktin Archana