Semolina and vegetable pudding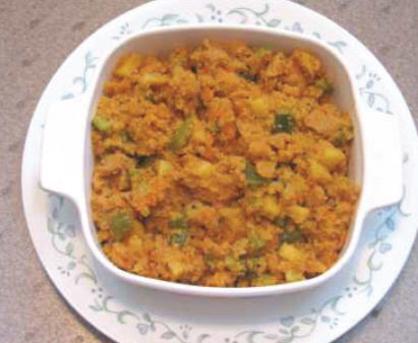 Ingredients

Preparation
1)Stir fry the semolina in a frying pan over moderate heat, adding 2 Tbsp of butter, until it darkens a few shades. Take off from heat, add the remaining 2 Tbsp butter and fold in the yogurt. Keep aside.
2)Heat 1 Tbsp of ghee/oil over moderately high heat. Drop the mustard seeds, sauté until they crackle. Add the green chili and curry leaves, sauté for few moments, then add all the vegetables and turmeric. Stirfry for 4-5 minutes.
3)Add the water, bring to a boil. Add salt and tomato paste, stir to combine. Add the semolina, stirring continuously. Reduce the heat to
very low, cover and cook until it becomes light and fluffy. Add the lemon juice.Remove from heat.
Serve hot.
By Anand Lila Devi Dasi