Sandwich Dosa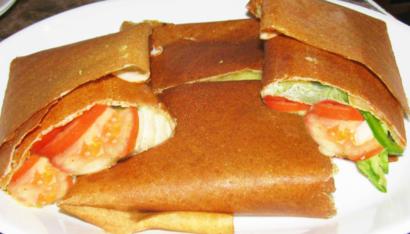 Ingredients
• Dosa batter
• Cucumbers  – 2-3
• Tomatoes  – 3-4
• Pepper powder
• Black salt – ½ tsp
• Chaat masala – 1 tbsp
• Green chutney – ½ cup
• Tomato sauce – 1cup
Preparation
1. Boil tomatoes, cucumber and cut them into slices.
2. Make 2 small plain dosa and roast on both the sides.
3. On one of the dosa spread green chutney and over it arrange cucumber, tomatoes slices.
4. Sprinkle salt, chaat masala and black salt.
5. Cover with another dosa and cut it.
6. Serve with sauce.
Serves
2 Persons
By Bhaktin Malathy