Mysore Masala Dosa-1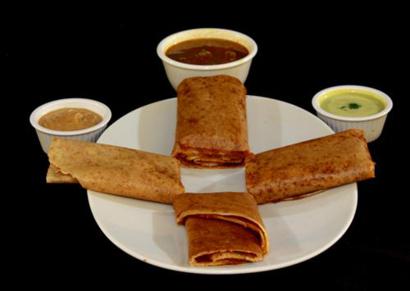 Ingredients
For filling:
• Peas – 150 gms
• Tomatoes – 150 gms
• Bell peppers – 3
• Salt – as required
• Pav-bhaji masala – 2 tbsp
• Paste – 2 tbsp
• Green chili paste – 2 tbsp
• Sugar (optional) – ½ tsp
• Butter
For batter:
• Rice – 2 cup.
• Urad dal – 1 cup.
Preparation
For batter:
1. Soak rice and urad dal for 6-8 hours in water.
2. Sieve the rice and urad dal.
3. Grind them separately by adding water to it.
4. Keep it covered overnight.
For Filling:
1. Chop the bell pepper into pieces and boil with peas in high flame till 2 whistles.
2. Mash them and keep aside.
3. In a pot melt butter. Add finely chopped tomatoes and cook.
4. Mash them and add pav bhaji masala, green chili paste, and salt. Mix well.
5. Add mashed, bell pepper and peas.
6. Mix well and add a little water and boil.
7. Make dosa from the batter and put mix vegetable in the center and roll it.
8. Cut into pieces and serve warm.
Serves
4 Persons
By Bhaktin Malathy