Chili beans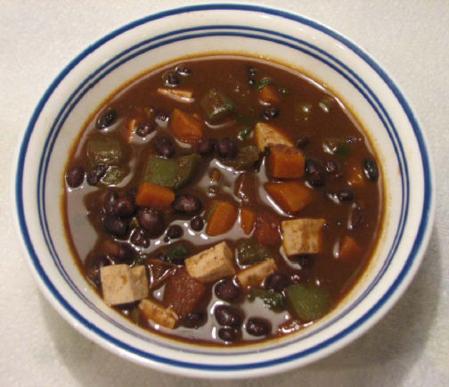 •1½ C black bean or kidney beans
•5 C water
•1½ Tsp olive oil
•2 green chilies, chopped
•¼ Tsp yellow asafetida powder
•1 celery stalk, chopped
•1 carrot, peeled and chopped
•1 medium sized bell pepper (capsicum) cut into 2cm cubes
•3 tomatoes, chopped
•1 Tsp cumin powder
•¼ Tsp paprika
•1½ Tsp salt
•2 Tbsp tomato paste
•1 C tofu cubed into 2cm size
•2 Tbsp chopped fresh coriander leaves
1.Soak the beans in water for 6-8 hours. Drain. In a saucepan, combine the water and beans and cook until soft. Or alternately you can pressure cook the beans until tender.
2.Heat oil in a saucepan over moderate heat. Sprinkle asafetida; drop chilies and the vegetables and sauté for a while. Add cumin, paprika, salt, tomato paste, cooked beans and the bean liquid (which was used for cooking the beans). Simmer and cook for20-25 minutes, stirring occasionally.
3.Add the tofu and coriander leaves. Cook for 5 more minutes. Serve hot with rice.
4-5
By Anand Lila Devi Dasi