Shredded Plantain Clusters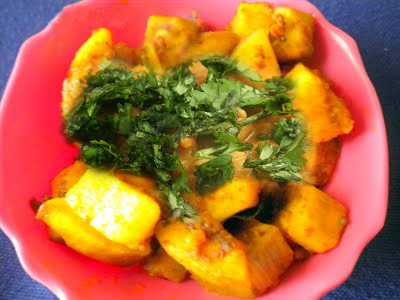 These little finger foods work well as d'oeuvres and appetizers for any social occasion. If you want to try the dish but lack asafetida, omit three ingredients and use ¼ cup (60 ml) of Mint-Lime Butter instead.
Preparation time (after assembling ingredients): 15 minutes
Cooking time: up to 20 minutes
Ingredients
• Unsalted butter, at room temperature – 4 table spoons (60 ml)
• Yellow asafetida powder (hing) – ¼ teaspoon (1 ml)
• Paprika or cayenne pepper – 1/8 teaspoon (0.5 ml)
• Plantains, 9-12 inches (23-30 cm) long – 2 large
• Ghee or oil for deep-frying
• Lemon or lime twists (optional) – 5 or 6
Note: This amount applies only to yellow cobra brand. Reduce any other asafetida by three-fourths.
Preparation
1. Mix the butter, asafetida and paprika or cayenne in a bowl and set aside.
2. Peel the plantains with a knife, removing the tough green skins and stray strings. Shred through the large holes on a hand grater or in a food processor fitted with a coarse shredding disk. Press ¼ cup (60 ml) of shredded plantains firmly between your palms to flatten and mold into a tight 2-inch (5 cm) cluster. Arrange them on a plate in a single layer.
3. Pour ghee or oil into a large, heavy frying pan to a depth of 1 ½ inches (4 cm). Place over moderate heat until it reaches 365 F (185 C) on a deep-frying thermometer. When it is hot, place the clusters one at a time into the oil in a single layer. Fry on both sides until golden brown and crisp, about 3 minutes per side. Remove with a slotted spoon and drain on paper towels. Fry the remaining clusters. While they are still quite warm but not steaming hot, smear the top of each cluster with the seasoned butter.
Makes
10-12 clusters
By Yamuna Devi Dasi