Sindhi Loli Biscuit (Sweet and Salty Variation)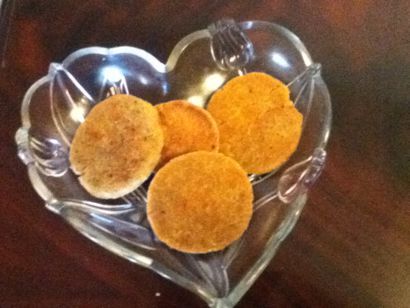 Ingredients:
1. Wheat Flour- 2 cups
2. Sugar/Jaggery-1/2 cup (60 gms)
3. Oil- 2 tbsp
4. Water to make firm dough.
5. Green Cardamons (choti elaichi)4-5 ( peeled and crushed)
6. Milk- 1tbsp.
Method: 
1. In a saucepan boil about a cup of water, add sugar and cardamons (peeled or crushed).
2. Let the sugar dissolve properly.
3. Alternatively some of sugar can be substituted with jaggery, so in that case boil jaggery and sugar together, also put a spoonful of milk as it will remove the impurities of sugar.
4. Now this is tricky as the syrup consistency should not be too thin or else the lolis will be less sweeter .It should be dark brownish in colour.
5. Now let the syrup cool off properly.
6. Strain it.
7. Take the wheat flour, mix oil and pour the syrup little by little and knead the flour, adding more syrup at intervals.
8. The dough should be stiff and if needed very small amount of water can be added.
9. Take a ball size portion of this dough and with the help of rolling pin roll it a little thick. ( you can cut it into a proper round shape with the help of a round sharp edged cup)
10. Make  multiple holes  on it using a fork.
11. Put it on a hot griddle and cook it on low flame, adding generous amount of oil and tossing it gently at regular intervals.
12. Since it is thick, cook it on really low flame , till small brown patches appears on both side.
13. Tastes best with curd or pickle or a hot cup of tea.
Variation: Salt and Pepper Loli.
Omit the sugar and cardamoms. Add 6-7 freshly crushed whole peppers to the 2 cups flour. Add 1 tsp salt. 4-5 tbsp oil and make a thick dough with water/milk and cut and cook the same way as above. Sprinkle and press little Shahjeera/ Caraway seeds on top before cooking(optional).
By Bhaktin Meena