Sliced Oranges with maple Cream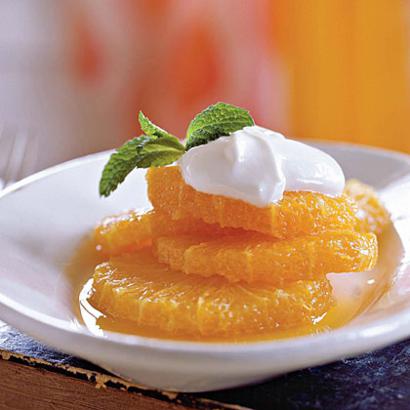 If you can find candy-like lumps of gur in Indian grocery stores, buy it, for it is hard to come by. It is made in a similar fashion to maple candy –syrups are boiled down until a solid cake remains. Grated, shredded or powdered, their flavor is similar and elegant. Though expensive, equally delicious alternatives are maple sugar granules or date sugar, both available at health food stores and specialty shops.
Preparation time (after assembling ingredients): 15 minutes
Chilling time: 1 hour
Ingredients
• Navel or blood oranges – 4 Large
• Rose or kewra water – 1 tablespoon (15 ml)
• Honey – 2 tablespoons (30 ml)
• Lime juice – ¼ cup (60 ml)
• Whipping cream, chilled – 1 cup (240 ml)
• One of the above suggested sweeteners – ¼ cup (40 g)
• Orange segments for garnishing – 8

Preparation
1. With a sharp serrated knife, peel the oranges and cut them into ¼ -inch (6 mm) slices. Remove any seeds with the tip of a knife. Reserve the juice in a small bowl.
2. Add the rose water or kewra water, honey and lime juice to the reserved orange juice. Decoratively arrange the orange slices in overlapping rows in a shallow round or rectangular serving dish, then sprinkle with the juice mixture. Chill for at least 1 hour.
3. Whip the cream and spread it over the surface of the oranges with an icing spatula. Just prior to serving, sprinkle the cream with maple sugar or gur. If desired, make a starburst of peeled orange segments in the center as a garnish.

Serves
5 or 6

By Yamuna Devi Dasi