South Indian Toor Dal & Tomato Soup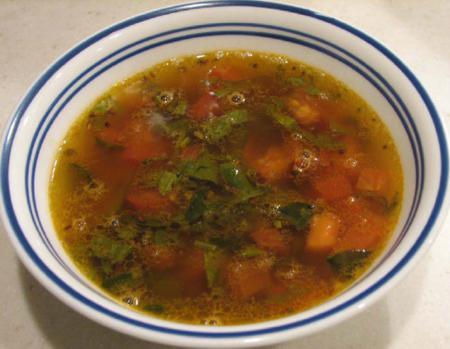 Ingredients
•½ C toor dal
•4 C water
•½ Tsp turmeric powder
•1 walnut sized ball of seeded tamarind pulp
•1 C hot water
•1 Tbsp rasam powder
•1¼ Tsp salt
•2 C water
•¼ Tsp yellow asafetida powder
•1 big tomato, diced into 1.5 cm cubes
•2 Tbsp chopped fresh coriander leaves
•2 Tsp ghee
•1 Tsp mustard seeds
•1 Tsp cumin seeds
•8-9 fresh curry leaves
Preparation
1.Boil the toor dal, water and turmeric in a saucepan. Reduce the heat and simmer for 45 minutes or until the dal is soft. (Alternately you can also pressure the cook the dal with 3 C of water)
2.Soak the tamarind in hot water for 20 minutes. Squeeze and strain the tamarind pulp. Collect the tamarind juice and discard the pulp.
3.Combine the tamarind juice, rasam powder, salt and 2 C of water in a saucepan. Bring to a boil. Add the asafetida powder. Reduce the heat and cook uncovered for 15 minutes.
4.Add the tomatoes and cook for 5-7 minutes. Add the cooked toor dal to the simmering soup (If you wish your soup to be more watery, add some water accordingly). Sprinkle the coriander leaves overtop. Reduce the heat to very low. Cover with a lid and cook for 3-4 minutes or until it starts foaming. (Don't allow it to boil again). Remove from heat source.
5.In a small pan, heat the ghee over moderate heat. Add the mustard seeds and sauté until they crackle. Add the cumin seeds, when they darken a few shades, add the curry leaves. Sauté for a while and add to the soup. Immediately cover with a lid and allow the seasoned spices to soak into the soup. Serve hot with plain rice.
Serves
4
By Madhavi Devi Dasi