Homemade Tomato Relish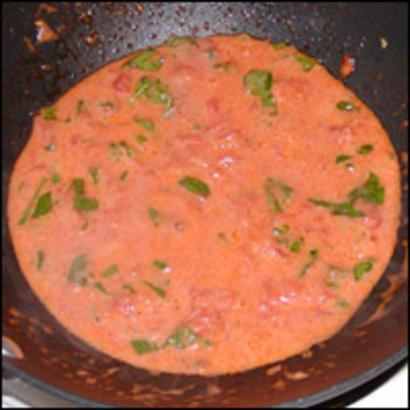 Ingredients
• Olive oil – 3 tbsp
• Yellow asafetida powder – ½ tsp
• Ground black pepper – ¼ tsp
• Pureed tomatoes – 2½ cups
• Minced fresh basil leaves, or 1/2 tsp dried basil leaves – 2½ tsp
• Clove powder – ¼ tsp
• Salt – 1 tsp
• Raw sugar – 1 tsp
• Tomato paste – 2 tbsp
• Fresh lemon juice – 1 tsp
• Minced fresh parsley – 2 tbsp
For Satay Sauce
• Olive oil – 1 tbsp
• Minced fresh ginger – 1 tsp
• Hot green chilies, minced – 1 tbsp
• Yellow asafoetida powder – 1/4 tsp
• Tomato puree – 1½ cups
• Ground cumin – 1½ tsp
• Peanut butter – 3 tbsp
• Coconut milk – 4 tbsp
• Brown sugar – 1½ tsp
• Salt – 1 tsp
• Minced parsley – 1 tbsp
• Lemon juice – 1 tbsp
Preparation
1. Heat the olive oil in a medium sized saucepan over moderate heat. When the oil is hot but not smoking, add the asafetida and saute momentarily. Add the black pepper, stir for a moment, and then add the tomatoes. Add the basil, cloves, salt, and sugar. Bring to a boil; then reduce the heat to low and simmer for 15 minutes, stirring occasionally.
2. Stir in the tomato paste, lemon juice, and parsley, combine and cook for another 1 minute, and remove from the heat. Serve hot, or if you prefer, allow it to cool, put it in a well-sealed glass jar, and use it when required for pasta dishes. This sauce can be refrigerated for about a week.
For Satay Sauce
1. Heat the olive oil in a heavy pan until almost smoking. Saute the ginger and chilies until they start to brown; then add the asafoetida. Saute for just a few seconds; then add the tomato puree. Stirring often, bring the puree to a boil. Reduce the heat to low and simmer for 5 minutes.
2. Add the ground cumin and peanut butter, stirring the sauce until the peanut butter melts. Blend the coconut milk, sugar, salt, parsley, and lemon juice with the peanut butter and remove the sauce from the heat. Whisk until smooth. This sauce is best served hot.
By Kurma