Spiced Creamed Spinach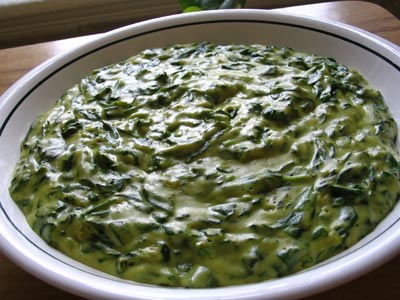 Throughout India, districts, towns, even individual homes have their own distinct cuisines. This delicious creamed spinach hails from the community of Vaishnava Brahmins of Delhi, and the final texture and riches are determined by the milk product you select: cream, sour, sour cream, crème fraiche, cream cheese or plain yogurt.
Preparation time (after assembling ingredients): 5 minutes
Cooking time: 15 minutes
Ingredients
• Cayenne pepper – 1/8 teaspoon (0.5 ml)
• Ground coriander – ½ table spoon (7 ml)
• Freshly ground pepper – ¼ teaspoon (1 ml)
• Freshly grated nutmeg – 1/8 teaspoon (0.5 ml)
• Turmeric – ¼ teaspoon (1 ml)
• Garam masala – 1 teaspoon (5 ml)
• Water – 3 table spoons (45 ml)
• Ghee or unsalted butter – 4 table spoons (60 ml)
• Yellow asafetida powder (hing) – 1/8 teaspoon (0.5 ml)
• Fresh spinach, trimmed, washed and coarsely chopped – 2 pounds (1 kg)
• Salt – 1 teaspoon (5 ml)
• Any of the following: heavy cream, cream cheese – ½ cup (120 ml)
• (Cut into cubes), creme fraiche, sour cream or stirred yogurt
Note: This amount applies only to yellow cobra brand. Reduce any other asafetida by three-fourths.

Preaparation
1. Combine the cayenne, coriander, black pepper, nutmeg, turmeric and garam masala in a small bowl, add the water, and mix well. Melt the ghee or butter in a 5-quart/liter nonstick pan over moderate heat. Add the asafetida and let it sizzle for a few seconds, then pour in the spice mixture. Fry for about 2 minutes.
2. Pack in the spinach and sprinkle with the salt. Cover and reduce the heat. Cook for 6-8 minutes, then turn the leaves over so that the uncooked for an additional layer on the top change places with the cooked leaves underneath. Cook for an additional few minutes.
3. Remove the pan from the heat and stir in the desired milk product. Return the pan to the heat and rewarm briefly. (If the yogurt is allowed to simmer, it will curdle). Serve immediately.

Serves
4 or 5

By Yamuna Devi Dasi