Spicy Yogurt Cheese Pakoras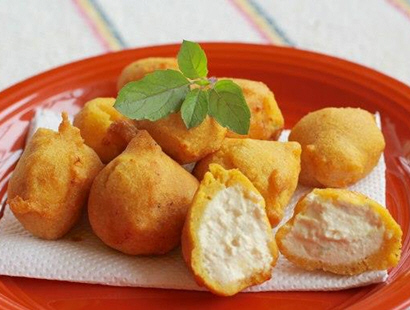 Ingredients
Pakora Dough
• 1 1/3 cup sifted chickpea flour
• 2 tsp melted ghee
• 1/4 tsp chili powder
• 1/4 tsp turmeric
• 1 1/2 tsp salt
• up to 9 tbsp cold water
Cheese Filling
• 1 1/2 cup firm yogurt cheese
• 1 or 2 green chile
• 1/2 tsp salt
• 1/2 tsp chili powder
• ghee or vegetable oil for deep-frying.
Preparation
1. Use either a blender or hand blender. Mix the flour, ghee, chile powder, turmeric and salt. Pulse a few times and slowly begin pouring 1/2 cup of water and process for 2-3 minutes until smooth and airy. Add a tbsp of water at a time until you have the consistency of heavy cream. If you used a blender then transfer now to a mixing bowl. Now let it sit out for 15 minutes.
2. In the meantime, make the yogurt cheese filling by adding all the ingredients together and mixing. Start rolling the cheese into little round bite size balls and place on a plate. Continue until all the cheese is gone, then place the cheese in the fridge until you are ready to use.
3. Heat the oil to 345-355 (180 C). Now dip the cheese ball in the pakora dough until it is completely covered on all sides with the chickpea mixture. Then fry for just 1 minute, 30 seconds per side until golden brown. Remove with a slotted spoon and drain on a paper towel. Continue until you are done.
4. Can be served as they are or with your favorite sauce.
By Bhaktin Christina
Source : https://www.facebook.com/KrsnasTreatsAndInspiringIdeas