Spinach Masala Pongal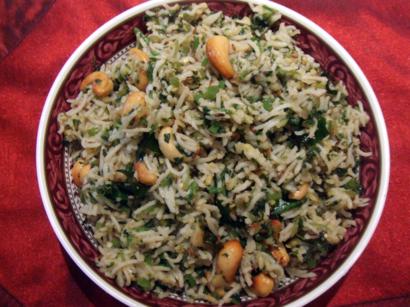 Ingredients
• Rice – 1 cup
• Green gram – ¼ cup
• Spinach – 2 bunches
• Green chilies – 3
• Tomatoes – 2
• Green brinjals – 2 or 3
• Ginger – ½ inch piece
• Garam masala powder – ½ tsp.
• Ghee – 3 tbsp
• Cumin seeds – 1 tsp.
• Cashew nuts – 2 tbsp
• Curry leaves – few
Preparation
1. Dry roast rice and dhal separately, till it turns light brown in colour and allow it to cool.
2. Cut tomatoes and brinjals finely, slice ginger into thin long pieces and slit chilies into two.
3. Cut spinach as fine as possible. Heat oil and fry green chilies, brinjals and tomatoes, in order.
4. When it becomes soft, add spinach and fry for few minutes.
5. Add ginger, masala powder, salt and four to five cups of water.
6. When it starts boiling add rice, dhal and keep in pressure cooker.
7. Cook for 10 minutes. After removing lid, add fried cumin seeds, cashew nuts and curry leaves. Mix well.
8. Pour rest of the ghee on top and serve hot.
Serves
2 Persons
By Bhaktin Shanti