Spinach Pakora with Ajwain Seeds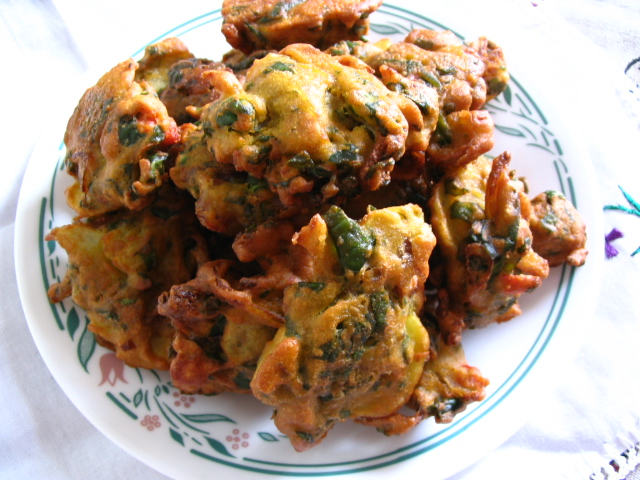 This is a wafer-thin, crunchy pakora. Because the batter is assembled just before frying, with ground rice and ice water, the pakoras turn out crispy and delicate. The batter should be thin enough to allow the irregularly shaped leaves to get a good coating of flavor. The predominant seasoning is ajwain seeds. The seeds and flour are available at Indian grocery stores, and they lend a spicy, lemony twist to the otherwise plain batter. Try to use spinach leaves of similar size, and trim off all but 1 inch (2.5 cm) of the stem.
Preparation time (after assembling ingredients): 10 minutes
Resting time: 10-15 minutes
Cooking time: 30 minutes
Ingredients
• Sifted chick pea flour (sifted before measuring) – 1 ½ cups (100 g)
• Rice flour – ¼ cup (40 g)
• Ajwain seeds – 1 ½ teaspoons (7 ml)
• Cayenne pepper or paprika – Scant ½ teaspoon (2 ml)
• Salt – 1 teaspoon (5 ml)
• Baking powder – ¼ teaspoon (1 ml)
• Ice cold water, or enough to make a thin batter similar in consistency to light cream – 9-10 table spoons (135-150 ml)
• Fresh spinach leaves, trimmed, Washed and patted dry (about ½ pounds/230 g) – 25-30 medium-sized
• Ghee or vegetable oil for deep-frying

Preparation
1. Combine the flours, ajwain seeds, cayenne pepper or paprika, salt, baking powder and ½ cup (120 ml) of ice water in a bowl and work with a whisk until smooth. Slowly whisk in the remaining water or enough to make a crepe-like batter, similar to cream.
2.
Next to the stove, set out the spinach leaves, a bowl of hand rinsing water and drying towel, and pepper towels for draining the finished fritters. Heat the ghee or vegetable oil in a karai, wok or deep-frying pan until the temperature reaches 350 F (175 C). Dip a spinach leaf in the batter so it is lightly coated, lift it and drain off the excess momentarily, then carefully slip it into the oil. Batter-coat only 4 or 5 leaves per batch, maintaining the oil at 350 F (175 C). quickly rinse and dry your hands, they fry the leaves on both sides for 1-2 minutes or until crisp and pale gold.
3.
Remove with a slotted spoon and drain on paper towels. Serve immediately or keep warm, uncovered, in a preheated 200 F (120 C) oven until all the pakoras are fried, for up to 30 minutes.
Serves
6 as a snack or 8 at a meal

By Yamuna Devi Dasi