Strawberry Kheer (Pudding)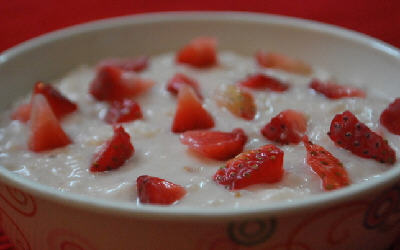 Ingredients
•Milk – 4 cups
•Rice – 1/4 cup
•Sugar – 4-5 tablespoons
•Cardamom seeds (powdered) – a pinch
•Fresh strawberries – 12 in number
•Strawberries to garnish
Preparation:
1. Soak rice in water for around 15-20 minutes.
2. Heat a pan & add 3.5 cups milk to the pan.
3. Keep 1/2 cup milk aside to be used later on.
4. Wash the soaked rice & add them to the milk.
5. Bring it to a boil & add sugar.
6. Boil it well on medium flame till rice becomes soft. It will take around 15-20 minutes.
7. In the meantime, slice the fresh strawberries.
8. Add a little water to these strawberries & transfer them to a microwave safe bowl.
9. Microwave them on high for 2 minutes.
10. Allow it to cool down a little & add 1/2 cup milk to it.
11. Next, grind it to puree form.
12. When rice becomes soft, add cardamom powder to it for flavour.
13. Turn off the flame.
14. Allow it to cool down  then add strawberry & milk mixture to it.
15. Mix well & don't cook them further as milk will curdle.
16. Check for sweetness at this stage, add more sugar if required.
17. Refrigerate for a while & garnish with fresh strawberries.
18. Strawberry kheer (pudding) is ready to serve.
By Bhaktin Meena