Succulent Gujarati Pumpkin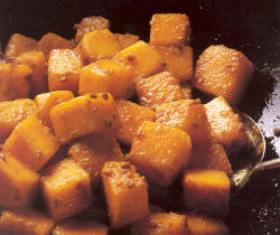 Ingredients
• Oil or ghee – 2 tbsp
• Fenugreek seeds – 1 tsp
• Yellow asafetida powder – ½ tsp
• Pumpkin, cut 1.75cm cubes – 1 kg
• Water – 1 cup
• Salt – 1½ tsp
• Turmeric – ½ tsp
• Red chili powder – ½ tsp
• Coriander powder – 1 tsp
• Jaggery or brown sugar – 1½ tsp
• Lemon juice – 1 tbsp
• Handful fresh coriander leaves, chopped
Preparation
1. Heat a wok or deep saute pan over moderate heat. Add the oil or ghee, and when slightly hot, add the fenugreek seeds. Fry them until they turn one or two shades darker. Be careful not to darken them too much, or they will turn bitter. Add the yellow asafetida powder, saute momentarily, splash in a little water to cool the pan, then add the pumpkin, water, salt, turmeric, chili, and coriander powder.
2. Stir, then cover, raise the heat, bring the mixture to the boil, then reduce to a simmer, cover tightly, and cook for about 10 or 15 minutes, or until the pumpkin is tender, preferably with a little liquid left in the pan.
3. Add the sweetener and lemon juice, heat through, then remove the pan from the heat, sprinkle with fresh coriander leaves and serve hot.
By Kurma