Sweet corn-peas and tofu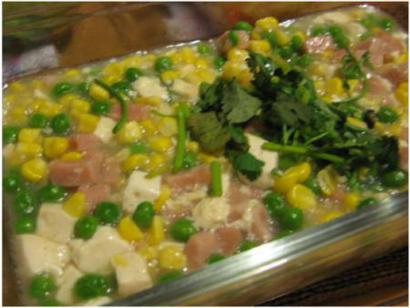 Ingredients
•1 cup fresh corn or frozen corn
•½ cup frozen peas
•½ cup vegetarian ham*
•½ cup chopped soft tofu
•2 tbsp corn starch
•4 tbsp cold water
•2 tbsp chopped cilantro
•1 tbsp salt
•2 tbsp oil
Preparation
1.Heat 2 tbsp of oil in the pan. Cook corn and vegetarian ham (made of soy) for 5 minutes (*Vegetarian ham is pinkish like and packed in a tube; it is tasty and ready to eat.
2.Vegetarian ham can be found easily in many oriental stores in Flushing, NY, Vancouver/Toronto, Canada, or Houston, TX or it can be specially ordered through your local oriental store.
3.You can simply omit this ingredient and use any colorful vegetable to replace it). Add peas and tofu and cook for another 5 minutes.
4.Meanwhile mix corn starch with water and turn the heat to low. Stir the mixture slowly to the pan.
5.Season with salt and pepper and sprinkle some cilantro leaves.
Serves
4
By Madhavi Devi Dasi