Crispy Deep-fried Eggplant Slices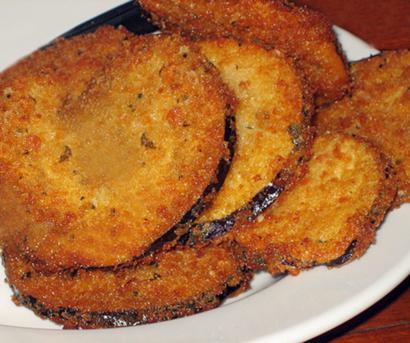 Though fried potatoes are welcome almost any time of the day, fried eggplants are usually part of a meal, because they must be served just after they are fried. If they are held in a warmer, even for 10 minutes, the crispy crust softens and the overall effect is a soggy fritter. If you reuse the ghee or oil after frying, be sure to pass it through a fine filter to remove traces of flour; the inevitable residue would burn and shorten the life of the frying medium.
Preparation time (after assembling ingredients): ½ hour
Cooking time: 10 minutes

Ingredients
• Eggplant (1-1 ¼ pounds/455-570 g) cut crosswise into ¼ -inch (6 mm) slices salt – 1 medium-sized
• Paprika or cayenne pepper – 1/3 teaspoon (1. ml)
• Whole wheat flour for dusting
• Ghee or vegetable oil for frying

Preparation
1. Place the eggplant slices on a tray and sprinkle liberally with salt. Let them sit for at least ½ hour to draw out excess moisture. Rinse off the salt, then pat the slices dry with paper towels. Sprinkle the slices with paprika or cayenne.
2. Place a small quantity of flour in a plastic or paper bag and drop in as many eggplant slices as you will fry in a batch. Shake vigorously, then remove each piece, shake off the excess flour, and set on a plate.
3. Pour enough ghee or oil to measure 2-3 inches (5-7.5 cm) deep into a large, heavy deep –frying pan. Heat the oil to 375 f (190 C) and put in as many eggplant slices as will fit in a single layer. Fry each side until crisp and browned. Remove the slices with a slotted spatula and set aside on paper towels. Repeat for each batch.

Serves
6 to 8
By Yamuna Devi Dasi