Curried Potatoes with Eggplant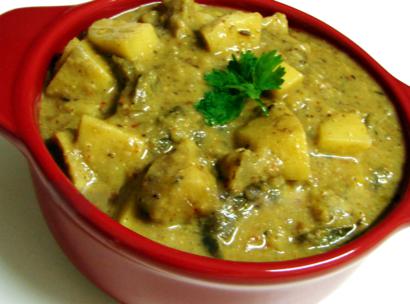 This is an example of the third method of cooking vegetables described in the introduction to this chapter. Both vegetables are steamed until tender. The potatoes are briskly stir-fried in seasoned ghee and then coated, along with the eggplant, in a delicately spiced yogurt-coconut sauce. Besides having a lovely flavor, this dish is light because the eggplant is steamed rather than fried.
Preparation time (after assembling ingredients): 5 minutes
Cooking time: 15 minutes
Ingredients
• Plain yogurt – 1/3 cup (80 ml)
• Fresh ginger root, scraped and coarsely chopped – ½ -inch (1.5 cm) piece
• Seeded hot green chilies, broken into bits (or as desired) – 2
• Shredded fresh or dried coconut – ¼ cup (25 g)
• Garam masala – ½ teaspoon (2 ml)
• Ghee or a mixture of vegetable oil and unsalted butter – 4 table spoons (60 ml)
• Black mustard seeds – 1 teaspoon (5 ml)
• Cumin seeds – ½ table spoon (7 ml)
• Curry leaves, preferably fresh – 8-10
• Yellow asafetida powder (hing) – ¼ teaspoon (1 ml)
• Boiling potatoes (about 2 pounds/1 kg), steamed until tender, peeled and cut into ¾ -inch (2 cm) cubes – 6 medium-sized
• Turmeric – 1 teaspoon (5 ml)
• Ground coriander – 1 table spoon (15 ml)
• Eggplant (8-10 ounces/230-285 g) cut into 1-inch (2.5 cm) cubes and steamed until tender – 1 small
• Salt – 1 ¼ teaspoons (6 ml)
• Chopped fresh parsley or coriander – 3 table spoons (45 ml)
• Fresh lemon juice – 1 table spoon (15 ml)
Note: This amount applies only to yellow Cobra brand. Reduce any other asafetida by three-fourths.
1. Combine the yogurt, ginger, green chilies and coconut in a food processor or blender, cover and process until smooth. Add the garam masala and pulse for a few seconds. Set aside.
2. Heat the ghee or oil-butter mixture in a heavy 4-5 quart/liter saucepan or 12-inch (30 cm) nonstick frying pan over moderately high heat. When it is hot but not smoking, drop in the mustard and cumin seeds and fry until the mustard seeds sputter and the cumin seeds turn golden brown. Stir in the curry leaves and asafetida, and immediately follow with the potatoes. Stir-fry for 3-4 minutes, then pour in the seasoned yogurt, turmeric, ground coriander, eggplant, salt and half of the remaining fresh herb. Gently toss to mix.
3. Reduce the heat to moderate, then fry, turning the vegetables very gently until they are dry. Before serving, mix in the lemon juice and remaining fresh herbs.
Serves:
5 or 6
By Yamuna Devi Dasi