Mango Coconut Rice Pudding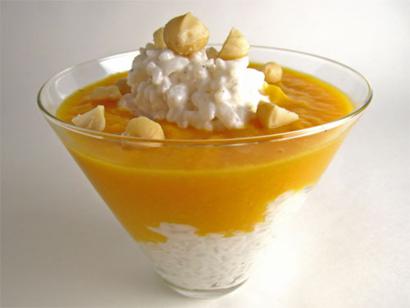 Ingredients
• Par boiled rice – ¼ cup
• Coconut milk – 1 ¼ ounce can
• Sugar – 2 tbsp
• Salt – 1/8 tsp
• Cardamom (ground) – 2 pods
• Mango (pureed) – ¼ cup
• Some macadamia nuts – (chopped, optional)
Preparation
1. Take a heavy saucepan and boil the milk.
2. Add coconut milk, salt, sugar, rice and cardamom in a sauce pan and bring to a boil on medium flame.
3. Reduce the heat and stir continuously for 25-35 minutes or until thick.
4. Remove the saucepan from heat and let it cool.
5. Mix in the mango and garnish it with chopped macadamia nuts.
6. Refrigerate and serve cold.
Serves
3 Persons
By Bhaktin Malathy