Buttermilk Scones with Jam & Cream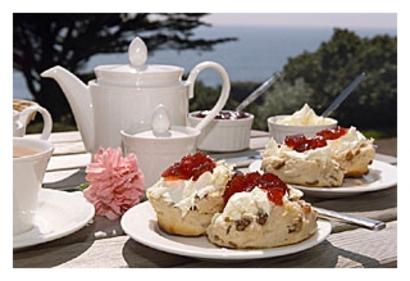 Ingredients:
• Plain flour – 1 3/4 cups
• Sugar – 1 tsp
• Salt – 1 tsp
• Baking powder – 2 tsp
• Baking soda – ½ tsp
• Unsalted butter – 5 tbsp room temperature
• Buttermilk, approximately – 3/4 cup
• Butter, jam and cream to serve.
Preparation:
1. Preheat the oven to 230° C / 450° F. Brush a baking tray with butter.
2. Sift all the dry ingredients together in a bowl (sifting aerates the mix). Rub the butter into the dry mix briefly and lightly, using your fingertips, until fine and crumbly.
3. Make a well in the centre of the dry ingredients, and add almost all the buttermilk.
4. Mix, using a knife in a quick cutting motion while rotating the bowl. The mixture will come together in small pieces. Mix in the rest of the buttermilk if the mix is too dry.
5. Gather the dough together, and turn it out onto a clean, lightly floured surface.
6. Knead the dough very lightly, folding it back over itself, pressing down, and turning, for 30 – 40 seconds. The dough should have just lost its stickiness.
7. Roll or press the dough out to a flat round about 1.5cm (½-inch) thick. Cut out rounds of about 4 cm (1½ inches). Pile the scraps together and press or roll out, but don't re-knead them. Use up all the dough. Place the scones on the tray
8. Bake the scones for 10-12 minutes, or until well-risen and golden on top. Remove from the oven. For soft scones, wrap them while warm in a clean tea towel. For scones with a crisp top, transfer to a wire rack to cool slightly.
9. Serve with butter, jam and cream.
By Kurma