Sweet & Sour Dal Soup with Mixed Vegetables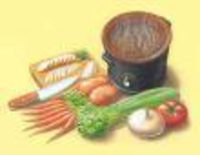 Ingredients
• Mixed dried dal – 2 kg
• Litres water – 12 – 15
• Minced fresh ginger – 3 tbsp
• Hot green chili, chopped, or to taste – 2 tbsp
• Bay leaves – 8
• Turmeric – 2 – 3 tbsp
• Ghee or oil – 1 cup
• Mixed vegetables like pumpkin, potato etc – 2 – 4kg chopped
• Salt – 2 – 3 tbsp
• Lemon or lime juice – 1.5 cups
• Black mustard seeds – 2 – 3 tbsp
• Cuumin seeds – 2 – 3 tbsp
• Fenugreek seeds – 1 – 2 tbsp
• Yellow asafoetida powder – 1 tbsp
• Large handful fresh or dried curry leaves
• Brown sugar – 4 tbsp
• Fresh chopped herbs – 2 – 3 cups
Preparation
1. Wash the dal.
2. Bring to the boil the dal, water, ginger, chili, bay leaves, turmeric, and 2 tablespoons ghee or oil in a heavy saucepan over high heat, stirring frequently. Reduce the heat to moderately low, cover with a tight-fitting lid, and boil for 1 to 1½ hours or until the dal become soft.
3. Add the vegetables and cook for another 10-20 minutes or until the vegetables are soft and tender.
4. Heat the remaining ghee or oil in a small pan over moderately high heat. Saute the mustard seeds in the hot oil until they crackle. Add the cumin seeds and toast until they turn dark golden brown. Add the fenugreek seeds. When they darken, add the asafoetida and curry leaves, stir once, and empty the contents of the pan into the cooked dal.
5. Stir in the brown sugar and stir well. Let the dal sit for 1 or 2 minutes; then add the chopped herbs. Serve hot.
By Kurma