Vegetable Soup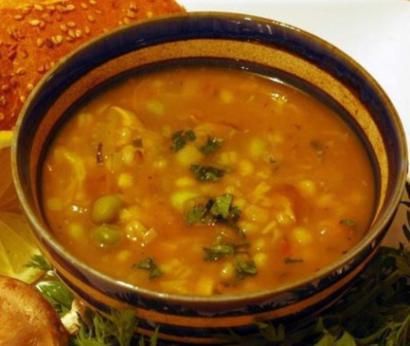 Ingredients
• Kidney beans – 1/4 cup
• Yellow split peas – 1/4 cup
• Split mung beans – 1/4 cup
• Pearl barley – 1/4 cup
• Unsalted butter, or olive oil – 3 tbsp
• Yellow asafoetida powder – 3/4 tsp
• Carrot, diced – 1 medium
• Celery stalk (with leaves), diced – 1 medium
• Potato, scrubbed and diced – 1 medium
• Turnip, diced – 1/2 medium
• Tomato, peeled and diced – 1 medium
• Water – 2 litres/8 cups
• Mixed dried herbs, or fresh herbs of your choice – 1/2 tsp
• Black pepper – 1/4 tsp
• Salt – 2 tsp
• Chopped fresh parsley, or any fresh herbs of choice – 1/3 cup
Preparation
1. Soak the beans, split peas and barley in water for minimum 4 hours, preferably overnight.
2. Melt the butter in a 6-litre/quart saucepan over moderate heat. Add the asafoetida and fry momentarily. Add the carrots, celery, potatoes and turnips and saute for 5 minutes. Add the water, the drained pre-soaked beans, the herbs, and the pepper and bring to a boil.
3. Simmer for at least 1 hour or until all ingredients are tender. Add the tomatoes, cook 15 minutes more, season with salt, pepper and parsley and serve in pre-warmed soup bowls.
By Kurma