Tamarind Soup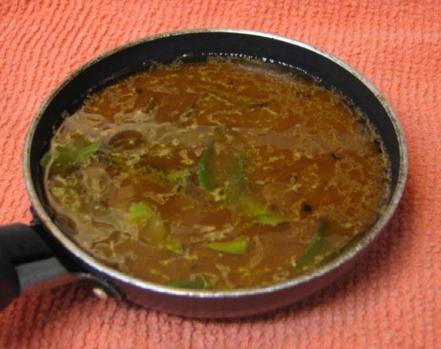 Ingredients
•¼ C of seeded tamarind pulp + 1 C of hot water
•2½ C water
•2 Tbsp ghee/gingelly oil (Indian style sesame oil)
•1 dry red chili
•1 Tsp mustard seeds
•¼ Tsp fenugreek seeds
•1 sprig fresh curry leaves
•½ Tsp yellow asafetida powder
•1 Tbsp sambar masala
•1½ Tsp salt
•1 Tsp brown sugar/jaggery
•1½ Tbsp rice flour
Preparation
1. Soak the tamarind in hot water for 20 minutes.
2. Strain the tamarind, collect the juice and discard the tamarind pulp.
3. Heat ghee/oil in a small saucepan over moderate heat. Add red chili,
mustard seeds. When the seeds crackle reduce the heat to low. Add
fenugreek seeds, curry leaves, asafetida and sambar masala. Stir-fry the
spices for 30 seconds (make sure that you don't burn them).
4. Quickly add the tamarind juice, 2 cups of water, salt and sugar. Simmer and
cook uncovered for 30-40 minutes or until thickened.
5. In a small mixing bowl, combine the rice flour and ½ cup of water until
smooth. Add to the simmering soup. Mix well. Cook for another 5-6 minutes
and remove from heat. Serve with rice.
** You may also add some vegetables like pumpkin, green mango, drumsticks etc.
to this Soup.
Serves
4
By Anand Lila Devi Dasi