Chick-pea-flour fudge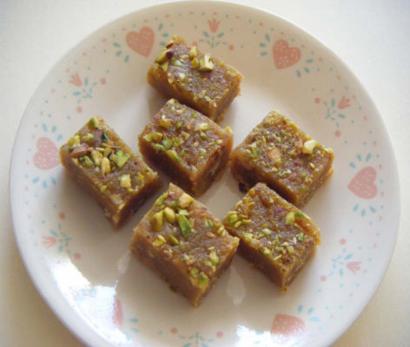 Ingredients
•1.5 cup butter
•3 cups chick-pea flour (besan)
•2 cups milk
•1.5 cup sugar
•¼ cup chopped cashew nuts
•2 tbsp grated coconut
•2 tbsp cinnamon
•¼ cup chopped pistachio
Preparation
1.Melt the butter in a pan. Stir besan into the pan and cook for 15 minutes (need to stir constantly). Add coconut and nuts and cook for another 5 minutes.
2.In a saucepan, boil the milk and sugar to make syrup. Stir constantly for 15 minutes.
3.Add the syrup into besan and cook for a few more minutes or until the mixture thickens.
4.Pour the mixture in a 8×8 square pan and let it cool. Top with pistachio and cover the pan with a foil. Place the pan in the refrigerator for a few hours until it is firm.
5.Cut the fudge into pieces