Bellpepper & Cauliflower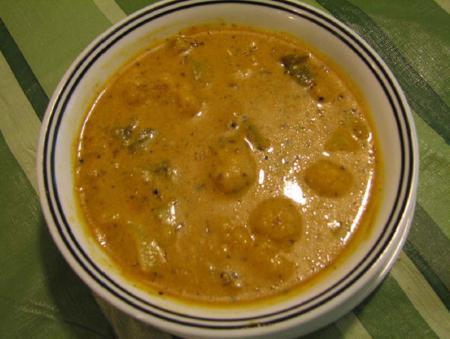 Ingredients
•6 medium size tomatoes
•5 C water
•2-inch piece ginger
•2 green chilies
•1/3 C fresh coriander leaves
•2 Tbsp ghee/oil
•2 bay leaves
•1 Tsp black mustard seeds
•1 Tsp cumin seeds
•2 medium bell peppers (capsicum), diced into 2 cm squares
•2½ C small cauliflower florets
•1 Tsp turmeric powder
•1¼ Tsp salt
•2 Tsp coriander powder
•1 Tsp garam masala
•½ Tsp chat masala
•½ Tsp sugar
•1 C yogurt
•½ C milk
•1 Tsp dried mint leaves
1.Combine the tomatoes and water in a saucepan over moderately high heat. Boil until the tomatoes skin blisters. Drain the tomatoes, peel off their skins and coarsely chop.
2.Blend the tomatoes, ginger, chilies and coriander leaves in the blender until smooth. Keep aside.
3.In a wide saucepan, heat the ghee/oil over moderately high heat. Add the bay leaves, mustard seeds and cumin seeds. When they
darken a few shades, add the bell peppers and cauliflower florets. Stir fry for a while. Add the turmeric and salt and stir often until the vegetables are half cooked.
4.Pour the blended tomato paste, add the coriander powder, garam masala, chat masala and sugar. Cook partially covered over low heat until the vegetables are soft.
5.In a small bowl, whisk the yogurt until smooth; add it to the simmering vegetables. Stir in the milk (you may adjust the quantity according to the desired thickness of the sauce). Sprinkle the dried mint and remove from heat. Serve hot.
4-6
By Anand Lila Devi Dasi