Vaamu bajji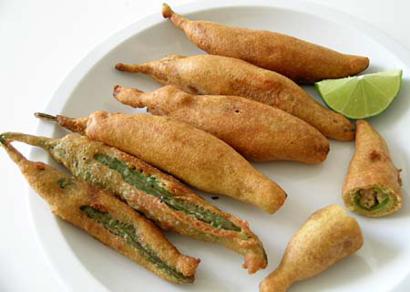 Ingredients
•Long Green Chilies – 6
•Ajwain / Vaamu – 1/2 tsp
•Sesame Seeds – 1 tsp
•Tamarind Extract – 1/4 tsp (Optional)
•Gram Flour / Besan Flour – 1 cup
•Salt -to taste
•Red chili powder – 1/4 tsp
•Baking Soda – 2 pinch
Preparation
1.Take long green chilies and make a cut. Remove seeds and keep aside as shown in the above picture. Grind ajwain/vaamu and sesame seeds to fine powder and add little salt to it. Stuff the green chilies with this ajwain powder. Note: You may add tamarind extract to the stuffing if desired.
For batter
1.In a mixing bowl, add besan, salt, red chili powder and baking soda. Add sufficient water and make a batter.
2.Heat oil in a deep frying pan. When oil is hot, dip the stuffed green chilies in the batter one by one and drop in the oil. Fry until its golden in color. Serve with lemon.
By Vaidehi