Sahai Uppama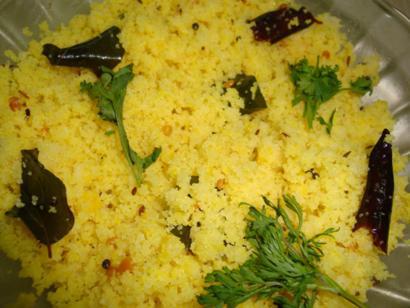 Ingredients
• Cream of wheat – 2 cup
• Butter-milk – 2 cup
• Coconut milk – 1 ½ cup
• Green chilies, chopped – 6
• Urad dal – 2 tbsp
• Curry leaf – 5 – 6
• Sugar – 2 tsp
• Cashew-nut – 10 -12
• Ghee – 3 tbsp
• Oil – 4 tbsp
• Asafetida – ½ tsp
• Salt – as required
Preparation
1. Sift cream of wheat.
2. Roast cream of wheat in 1 tsp Ghee for 5 minutes.
3. Heat ghee or oil in a pot.
4. Add urad dal and roast till brown.
5. Add chopped green chilies and roast for 1 minutes, then add curry leaf, asafetida.
6. Then Add butter-milk, salt, sugar and boil.
Serves
5-6 Persons
By Bhaktin Sushma